Hello to all of my team members and followers this is my home page, where I will be talking about our SFI Business and how to make money online today, and what everyone should do to get in on this wonderful opportunity.
This company SFI marketing Group, is by far a top rated and best in the online opportunities field out there.
There is never any obligation to make a purchase EVER and it's FREE to join! So give me a chance to show you all about SFI and this great business that I am a member of (SFI and TripleClicks.)
I think this is the best way to earn a residual / leveraged income and we explain how to build your own business from the ground up!
In reality this is your own business and you should treat it as a regular bricks and mortar type of business (Except for all of the costs related to them). SFI is founded by Gery and Bonnie Carson and was and is the best way for earning a residual and leveraged income, and as a great way to make a second income bar none that is FREE to join and worth looking at!
I would recommend digging deeper into our company through visiting our website and joining for free. Then deciding if SFI is right for you and your Family later because NOW is the best time to set your Financial Goals and accomplish them in less than 20 Months.
(My two good friend Boris and Melvin are doing real well for themselves see my blog post about their 2 and 3 year anniversary and to see their combined 5.5+ Million VersaPoints they earn per month just from Matching VersaPoints!
Those numbers do not include their team sales so as you can see they are doing Great for NOT Spending any money up front BUT they Placed at least 1 FREE ad EVERY day for their first 20 months!)
* making a purchase is a personal choice, you can run YOUR Business without making one it just takes a little longer to get to your objective goals. If you are financially able I would recommend making a minimum $19.95 purchase to maintain your EA status and focus your efforts solely on your advertising, so you do not have to worry about your VersaPoints (VersaPoints aka VP are one way we get paid commission and to determine our rank level.)
There are a total of 7 ways to earn a commission. See my blog post on "Our Compensation Plan"
What's this all About?
I belong to a group of Internet Network Marketers called SFI (Strong Future International) Marketing Group we are an Affiliate and Sales driven workforce with members from all over the world totaling over 1.5 million Affiliates!
We have been online since 1998 but our parent company (Carson Services, Inc.) have been in the Network Marketing Business since 1985. I have been an Affiliate since September 26, 2012 and to date I have been paid EVERY month on or about the 10th of the following month so for example for my first month I got my commissions on or about the 10th of October, 2012
I have been Building our Team and this month (November 2019) I am on track to earn a nice commission check in December, AGAIN! I cannot say the amounts due to regulatory regulations in the United States But I have been paid my Commissions every month that I have been with SFI!
You have got to remember it takes time to build a Great Team under you, so remember to Never Give up on your Dreams of getting rid of having a Boss. To work from anywhere in the world as long as you are able to get online. Perseverance and Patience are needed to Reach your Goals in any Venture or Business online or otherwise.
I just place free ads everywhere that I am allowed to online. the more ads I can place in a month the better my chances of getting more Active Team Members to join us in our Business. For anyone interested in earning a leveraged and residual income please visit http://www.sfi4.com/11536214.21/SB
Current Status
I am currently a Silver Team Leader (STL), the Second Team Leader Position in SFI, which basically means I can receive a share in the Executive Pool. and that is a 50% share of all profits from ALL our Companywide Sales from our Sales Site TripleClicks. as well as anyone on my team that has reached EA or Executive Affiliate for each month they are members, I also receive a matching Versapoints bonus and free Rewardical tokens every month.
My Goal was to reach Bronze Team Leader by the end of 2015 and I did. In 2016 my Goal was to reach Silver Team Leader before the end of the year 2016 and I did that several months early! I was Gold Team Leader from 2018-2019 but I decided till I have a bit more time to put into my business that I will just stay as an STL
Versapoints also known as VP is one of the the basic formulas that SFI uses to pay out commissions to its Affiliates It also is the way we know what Team Level we are at in each month.
But our number one goal is to make a minimum $10,000 per month in the next 5-10 years and it is VERY doable with the right people on our team! Why not Join our Team and then you too can be making $10,000*+ EVERY Month once you have your Team in place or are bringing in some new TripleClicks or ECommergy Members under your team!


The Basics of SFI!
With SFI you build up your commissions by having more Associates in your downline achieving EA ( Executive Affiliate) status (or Higher) month after month, the more Affiliates you have the better your chances are of having some of them become EA or better. (There are some people who are Inactive but sign up thinking this is a "Get Rich Quick" Type of Program and we are not that, we are a real Business with Residual commissions month in and month out!
The next way we Build up our Commissions is through sales to our team members as well as new TripleClicks Rewardical, or ECommergy website Members (PRM's) we sign up and who buys something from our stores, a membership, or TCredits (these are similar to E-Currency but can only be used inside our Store) for anything out of our nearly 10,000 + Commission earning Products and services including our Astro Auctions!
The most important part of building your downline is how you advertise. Me personally I advertise on a bunch of free sites and traffic exchanges as well as a few paid ones too. If you have some extra money to spend on advertising by all means find a good website that will allow you to put your SFI banner up for a monthly fee. Advertising at sites that require you to pay something does work, I have done it Successfully.
Try and stay away from incentivized ads (that means the people clicking your ad are being paid to do so) as much as you can because they usually will not stay active for very long if at all past their first month.
If you are seriously interested in building your own business online and maintaining it and being an active part of that business,(maintaining EA, or higher, every month) it is very easy to do, and it all can be done from your home computer, tablet, or smartphone (with an Internet Connection). there are several ways to maintain your EA status most are free including advertising your included website on thousands of free ad sites like backpages and craigslist.
I have listings on quite a few other free and paid sites and since I live on a limited budget so when someone tells me I can post an ad on their site for free I usually do.
Also once you sign up I will send you a welcome email.
You just need to spend about 2 hours a day promoting your free websites that are given to you. You will get a lot of guidance from me and my Team. Let me and my Team guide you through SFI and TripleClicks and how to run a successful online business please feel free to visit and bookmark This Page for more information on this great opportunity and your chance to actually "FIRE" your boss!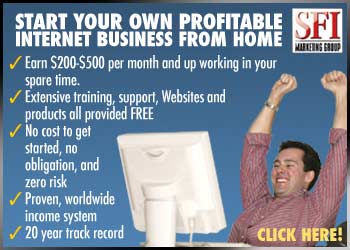 Now, it's up to you to take action!
To get started immediately, just click on the sign up link below to complete the short registration form. Within seconds you will receive access to online materials that let you start earning money today!
To all of Our Success,
Sincerely, Robert From Team Amanda and Robert
(Team Leaders and mentors)
*not a guarantee BUT VERY Possible with time and effort on your part in regards to you being Active and bringing in new Team Members that are Active in their Businesses down 12 levels into your Team. and Learning how to submit different ads online as well as sometimes offline as well.
Click Here To Sign Up For FREE
IMPORTANT NOTE BEFORE YOU FILL OUT THE SHORT REGISTRATION FORM: I've received many messages about emails from SFI and me not getting through because of Several Reasons.
So, please be sure to:
Check your bulk/spam mail box folder.. the "so-called" spam filters really have no idea what you do not want to receive and may make the error and toss the email in there.
Also with SFI I feel the best provider is Gmail I would recommend to set up a FREE Gmail account just for YOUR Business.
To ensure that you receive important newsletters, announcements, new sign up notifications, etc. from SFI, and me make sure you put mail@sfimg.com in your e-mail program's address book and/or safelist.